Originally announced by Chris McNulty in the Updating content management for the cloud in the Microsoft Tech Community, the Document Information Panel (DIP) returns to Word 2016 for SharePoint. It's now called the Word SharePoint Properties Pane (WSPPP), is only available in Word 2016 - as the name would suggest - and is implemented by way of an Office Add-In.
There are more than a few organizations that have held on to their old Office installations specifically to retain the DIP functionality - manipulating SharePoint metadata directly within the Office client application makes for a streamlined user experience. And for anyone attempting to increase the use of metadata in SharePoint knows, reducing the effort required is half the battle.
The Word SharePoint Properties Pane is currently rolling out to Word 2016 Click-to-Run, and is available to MSI-based (Volume License, etc) installations of Word 2016 by way of KB4011671. The Add-In is accessed via the ribbon in the View tab:


The WSPPP Add-In will automatically work for content in SharePoint Online and OneDrive for Business libraries, but you need to be running the December 2017 Cumulative Update in SharePoint 2013 and 2016 on-premises environments.
I've tested the WSPPP in the following SharePoint versions and found that it works with the following (or later):
SharePoint 2013 December 2017 CU
SharePoint 2016 March 2018 CU (though December 2017 CU should be sufficient)
One item to note is that the WSPPP Add-In panel only displays once the document is saved, if it's clicked prior to save the 'Office Backstage' is displayed and you're able to set any properties and then save the document as required.


In testing, I found some strange behaviour when the content type included a single, required property - specifically that the
property value had to be set via the Office Backstage, otherwise the WSPPP throws a 'No SharePoint Properties Found' error:


A work-around for this issue may be to set a default value on the required property, which may not be a good practice in general. Alternatively, have Content Types with more than one visible property and the WSPPP will display correctly: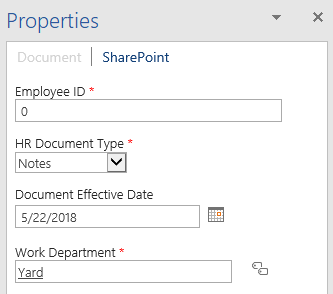 Lastly, you can set the 'Always open Document Information Panel' on the Content Type as necessary to support the desired end user experience - enabling this will the WSPPP to open along with the document.
Overall, it's a good thing to see the WSPPP in Word 2016 - the Document Information Panel provided a necessary tool in managing metadata in SharePoint documents, and it was sorely missed by many.