Last week, Microsoft announced two data centres coming to Canada - this is HUGE news for Canadian customers that have been considering the cloud but holding off due to data sovereignty concerns. In a relatively short timeframe, this one blocker to adopting Microsoft cloud-based computing will be removed. This, in addition to enhancements to Azure Rights Management and the forthcoming bring-your-own-key for encryption will provide numerous and multi-faceted data protection options for Microsoft Cloud customers. I'll spend a little time on this in future blog posts.
Certainly, customers that have already implemented components of Office 365 or Azure as part of their IT platform or may be planning to do so, there are a number of things to consider. Richard Harbridge of 2toLead provides a great overview of a number of these items in this article.
On a completely technical level, I think there is an additional consideration, namely bandwidth and latency. This is rarely a concern for on-premises networks with Gigabit to the desktop, or even branch office networks when the geographic distance is not too great between sites. However, when moving workloads to the cloud it's something to look at - user experience may be vastly different to what they are accustomed to. This is dependant on the particular workload. For example, email services provided by Exchange / Outlook will provide a similar experience on-premises and in the cloud, whereas interacting with SharePoint (uploading Engineering drawings as an example) may be quite different as a result of the reduced bandwidth and increased latency.
A tool that I've recently been introduced to is the Microsoft Azure Speed Test website from two10degrees. This website shows the latency encountered when accessing Azure BLOB Storage across the various Microsoft data centres from your location. Here's a screenshot of the website: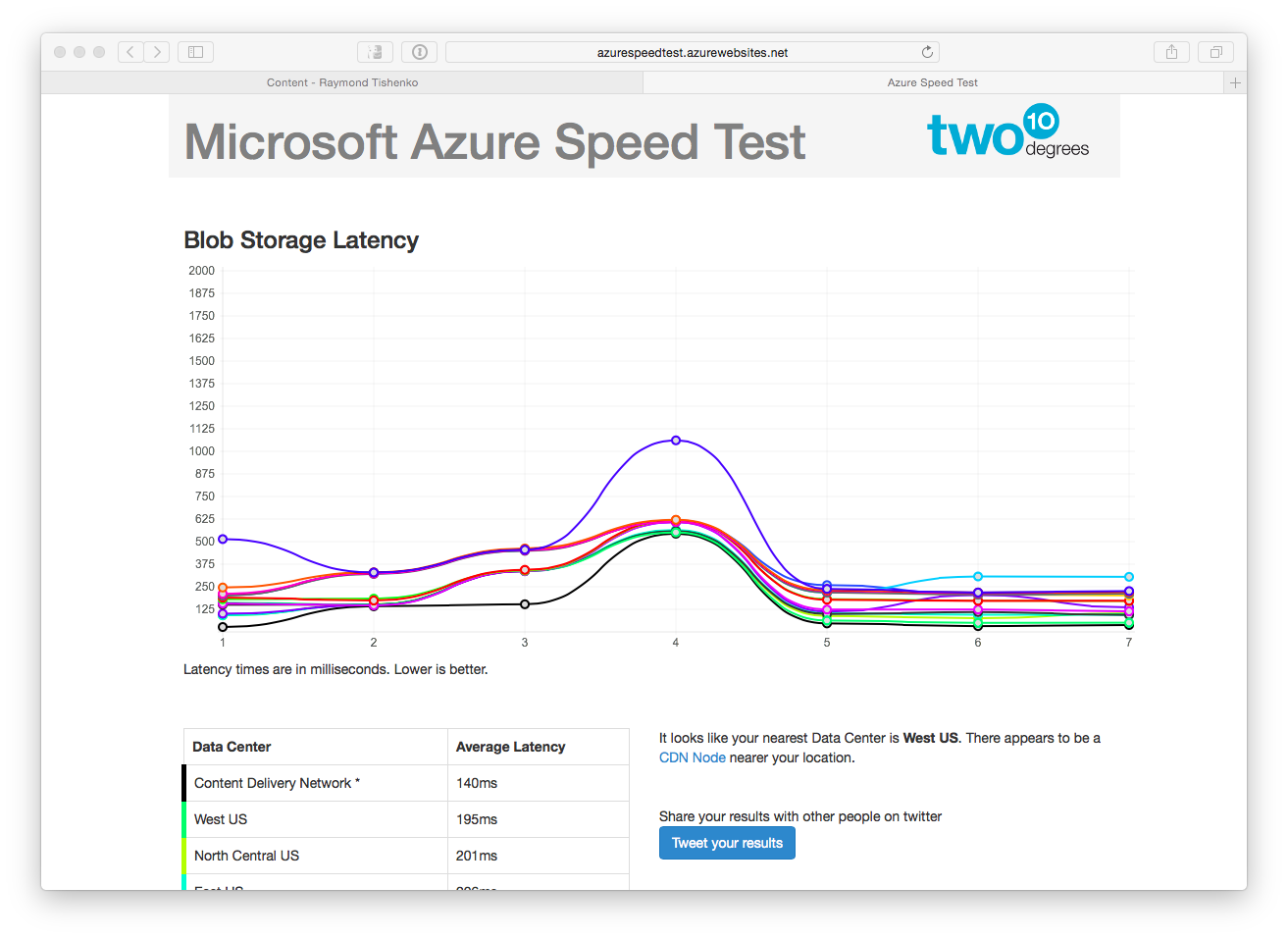 This is purely informational, but gives you an idea of what you'd encounter when using the BLOB storage as well as the Content Delivery Network (CDN) provided by Microsoft Azure. From a planning perspective, this is a great tool to being investigating the impact of latency as introduced by accessing the remote cloud services.
It's my hope that at some point in the future Microsoft will provision a data centre on the West Coast of the country - this would be a boon for all the companies out West. As it is, I'm very excited that Microsoft considers the Canadian market strong enough to warrant opening data centres, and look forward to the increased opportunities to leverage this latest IT approach as a result.